On Thursday, XRP fell by 7.4% as crypto investors faced the prospect of Tether (USDT) joining TerraUSD (UST) in the abyss.
While crypto market forces remain an XRP driver, the SEC v Ripple case continues to have more influence.
Key technical indicators bearish. XRP sits well below the 50-day EMA.
On Thursday, XRP fell by 7.44%. Following a 19.10% tumble on Wednesday, XRP ended the day at $0.3843. The losses came ahead of today's SEC v Ripple court date.
Market angst over the de-pegging of TerraUSD (UST) and the collapse of Terra LUNA continued to weigh on investor appetite. Adding downside on Thursday, however, was Tether (USDT) losing parity with the dollar.
Ripple Defendants Due to Submit Reply to SEC Brief on Hinman Docs
Later today, Ripple defendants are due to respond to the SEC's brief claiming the Hinman documents are protected by the attorney-client privilege.
The SEC is then due to respond to Ripple Defendants' comments on May 18.
Today's response could prove pivotal to Ripple's defense. As Ripple Lab attorney Matthew Solomon previously highlighted, the SEC made at least six "filings in opposition to Defendant's August 10, 2021 motion to compel."
A strong response would leave the SEC under pressure ahead of its May 18 reply to today's reply.
By way of background, William Hinman, former SEC Director of the Division of Corporation Finance, is a central figure in the SEC v Ripple case.
Hinman said that Bitcoin (BTC) and Ethereum (ETH) are not securities in a 2018 speech. The SEC is looking to shield documents and emails relating to internal discussions and Hinman's famous speech.
XRP Price Action
At the time of writing, XRP was up 14.29% to $0.4392. A bullish morning saw XRP rally to an early morning high of $0.4638 before easing back.
XRP broke through the First Major Resistance Level at $0.4299.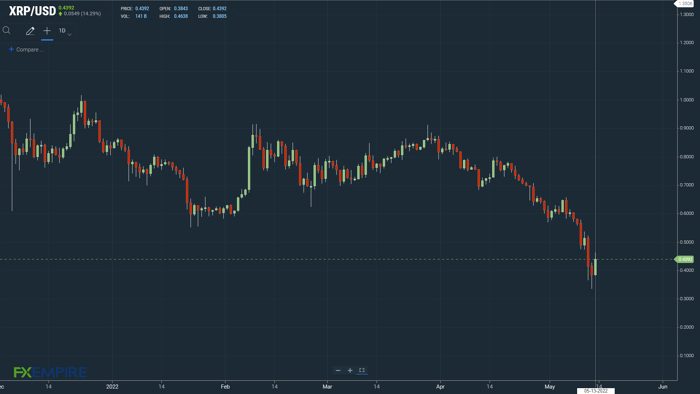 XRPUSD 130522 Daily Chart
Technical Indicators
XRP will need to avoid the First Major Resistance Level and the $0.3824 pivot to target the Second Major Resistance Level at $0.4756. XRP would need broader crypto market support to break out from this morning's high of $0.4638.
In the event of an extended rally, XRP should test resistance at $0.50. The Third Major Resistance Level sits at $0.5688.
A fall through the pivot would bring the First Major Support Level at $0.3367 into play.
Barring another extended sell-off throughout the day, XRP should avoid sub-$0.30. The Second Major Support Level sits at $0.2886.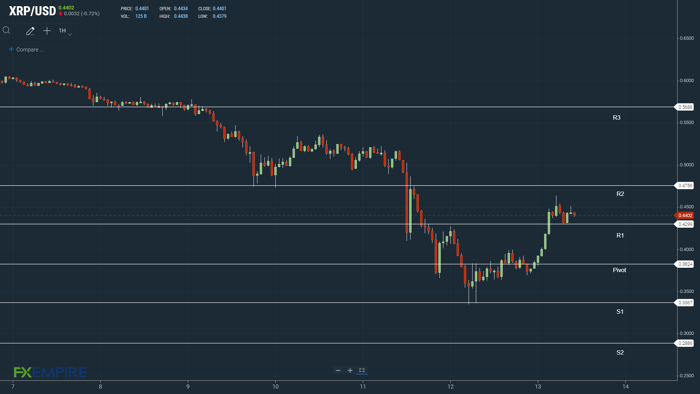 XRPUSD 130522 Hourly ChartThe EMAs and the 4-hourly candlestick chart (below) send a bearish signal. At the time of writing, XRP sits below the 50-day EMA, currently at $0.5047. This morning, the 50-day EMA pulled back from the 100-day EMA. The 100-day EMA also pulled back from the 200-day EMA, XRP negative.
A move through the 50-day EMA would support a return to $0.55.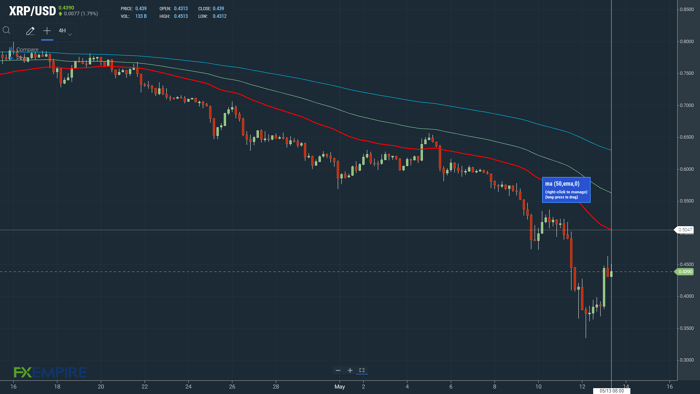 XRPUSD 130522 4-Hourly Chart
Source: fxempire.com
https://xrprightnow.com/product/xrp-30oz-lake-blue-vacuum-insulated-tumbler-cup-w-accessories/